Machu Picchu, Colca Canyon, Amazon rainforest, coastal deserts, the massive Andes Mountains, and that's to say nothing about the Peruvian people. Yep, there are a few good reasons to visit Peru. What are the travel health concerns? Nothing too exotic, depending on what part of the country you are visiting.
That said, Peru is a developing country with tropical areas. You should visit a travel health clinic and consult a doctor before you go and you should also purchase travel health insurance. Use the guide below to get a sense for what's in store.
Recommended Vaccines
There are no vaccines required for entry into Peru, but these are highly recommended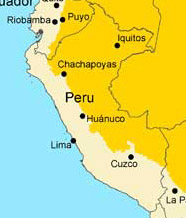 – Hepatitis A + B (read our comparison of Hepatitis A, B and C)
– Typhoid (especially if you are traveling outside of tourist areas)
– Yellow Fever (if you are traveling to areas in the dark yellow portion of the map to the right)
– A rabies vaccine will be recommended if you plan on being in frequent contact with animals.
Recommended reading: Travel Immunizations: Everything you Need to Know
Malaria?
Malaria is only present in certain areas of Peru. You are not at risk in the major tourist areas of Cuzco and Machu Picchu. In addition, malaria is not found along the coast or in the cities of Arequipa and Nazca.
If you are traveling to tropical areas, it may be a good idea to take malaria prophylactics. This includes the northern city of Iquitos. This is something that you should discuss with a doctor at a travel health clinic. To prepare you for that discussion, have a look at our two articles on malaria prophylactics: Which Malaria Prophylactic Should you Take? and Should you Take Malaria Prophylactics?.
Traveler's Diarrhea
Traveler's diarrhea is the most common affliction when it comes to developing world travel and Peru is no exception. It is usually inconvenient and occasionally embarrassing, but rarely debilitating. Check out our article titled How to Prevent and Treat Traveler's Diarrhea for some specific tips. Water and food are the culprits when it comes to traveler's diarrhea. You should avoid tap water and only eat food that is peeled (or cooked well). If you don't want to shell out money for bottled water, you can treat and purify water with several different options. We are big fans of the SteriPen Traveler, which uses UV light to treat and purify water. Recommended reading: 4 Ways to Treat Water While Traveling.
Altitude Sickness
Altitude sickness is a common ailment faced by travelers to certain parts of Peru. The town of Cuzco, the jumping off point for Machu Picchu, may even give you some problems. Make sure to take it easy when you arrive in a place with a higher elevation. Give your body time to adjust. We offer more specific and detailed tips in a previous article: How to Deal with Altitude Sickness.
Other Considerations
Bring sunblock and a hat. You may be spending time in the sun on the coast of Peru or you may be exposed to the sun in places like Cuzco and Machu Picchu, in which case you will be even more vulnerable because you are at a higher altitude. See our article on how to pick the best sunscreen and avoid sunburn.
Peru Travel Health Arsenal
– sunblock and hat
– Ciprofloxacin (antibiotic used to treat severe traveler's diarrea. You can ask for some at your travel clinic or you can buy some at a pharmacy abroad)
– rehydration salts (for traveler's diarrea)
– basic first aid kit
– malaria prophylactics (if you are traveling to affected areas, see map above)
– multivitamins and probiotics (to keep yourself healthy and happy)
– acetazolamide (a medication for altitude sickness. Talk to your doctor if you are especially susceptible to altitude sickness and this medication may be prescribed).
See this article for important travel health gear.
For US residents, you can locate a travel health clinic with this page from the CDC.
Photo credit: flickr user YoTut