You got your beaches, your rainforest, your mouth watering arepas and your salsa dancing. What else is there, really? Colombia is indeed one of the world's most overlooked travel destinations. A legacy of violent crime and guerrilla warfare hangs over the country, but times have changed, and Colombia is no longer the place that it once was.
There are still some travel health concerns to look out for, though. We'll tell you everything you need to know in this post.
Recommended and required vaccinations
Colombia does not have any required vaccinations for travelers entering the country. However, there are certain vaccinations that are highly recommended:
Routine vaccinations – for a complete list of routine vaccinations please see our comprehensive article on immunizations here.
Typhoid – as with any developing country (or any country with developing areas), typhoid is recommended. A disease that can be transmitted by food or drink, it's a good vaccination to have under your belt.
Yellow Fever – Yellow fever is present in certain areas in Colombia. See this map from the CDC:

While it is not required for entry in Colombia, it's a good vaccination to have. It provides immunity for ten years (it actually has been shown to provide immunity for life, but the WHO will only mark immunity for 10 years in a certificate of vaccination) and it is required for entry by many countries. Of course, if you will be traveling to affected areas in Colombia (and that includes most of the country), you should not think twice about getting a Yellow Fever shot.
It also goes without saying that you should get a rabies vaccination if you plan on spending time in close proximity to animals, or if you will be exclusively in rural areas.
Malaria
Malaria is present in many areas of Colombia. Here is a map from the CDC showing transmission areas: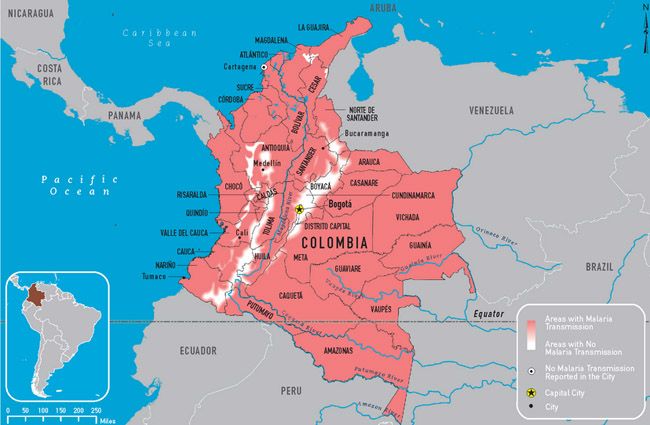 Read up on malaria in our dedicated section to the topic here. Also, be sure to make an appointment with a travel health clinic to discuss prophylactic options and general best practices with a doctor. The resources on this site will prepare you for that conversation. We have covered prevention, diagnosis and treatment extensively here.
Some good reading to get started on malaria: Malaria Myths and Facts
Eating and Drinking
The most common illness suffered by travelers to countries like Colombia is some mild traveler's diarrhea. This is avoidable if you take certain precautions when it comes to eating and drinking. Avoid raw fruits and vegetables, unless they have been washed or peeled. Try to eat food that is served hot, and always be on the look out for clean establishments and popular eateries.
What about drinking the tap water? You can drink the tap water in most major cities in Colombia, including Bogota, Medellin, Cali and Cartagena, but you should buy bottled water or travel with a purifier if you are outside of those areas. In some smaller cities and towns, the tap water may indeed be safe to drink, but you don't want to take any chances.
Other concerns
Colombia has a variety of natural environments, from rainforest to mountains to beaches and coastline. If you are going to be heading off the beaten path into forested areas, or into any areas where you will be interacting with flora and fauna that could pose a threat, you should do so with at least one other traveler and preferably an experienced guide or tour operator. It's worth repeating that you should have a travel health consultation before your trip, especially if you will be heading to these areas.
The sun is another rarely considered factor in the world of travel health. Plan for it. Colombia is not far from the equator, and whether you are at high altitudes in cities like Bogota, or on the Caribbean coast, you can easily get burned if you are not careful. We highly recommend reading our article on avoiding sunburn and picking a sunscreen here.
Finally, Colombians like to have a good time, and you may notice that the aguardiente (a potent alcohol) flows freely. Know your limits and respect them. Alcohol poisoning is a real problem, and even a hangover can ruin a travel day.
Travel Insurance
We highly recommend World Nomads travel insurance when traveling in Colombia. You can read about why we like them so much here. That article also has a built-in form where you can get an instant quote form World Nomads in order to have an idea of how much the insurance will cost.
If you have traveled to Colombia yourself, please feel free to share the experience in the comments below.