When it comes to travel insurance, most people know they should have it, but they might be unfamiliar with what the process is like when it comes to using it.
We've mentioned that our recommended travel insurance is World Nomads. In this post, we will show you what it's like to file a claim with them. While you would follow this same process with other travel insurance companies, we believe that World Nomads has superior customer service and the best online interface for managing your insurance before, during, and after your travels.
Filing a Claim
When you purchase World Nomads travel insurance, you are given an account that you use to log in to a secure area on their website where you can manage your insurance. From there, you can find your policy information, extend your insurance, and file a claim. When you click "make a claim," you will see something similar to the picture below: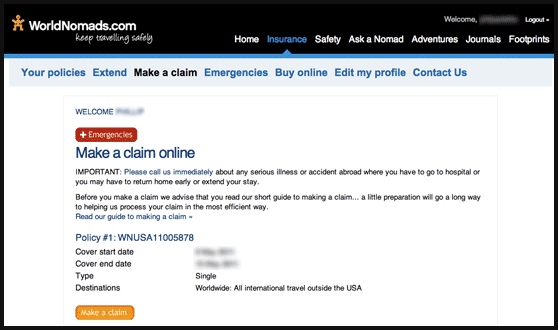 After selecting which policy you would like to make a claim on, you then choose whether you are filing a medical, trip cancellation, or lost possession claim. We are a travel health site, so we will approach this as if you are filing a medical claim. After selecting the type of claim, you choose your mode of reimbursement – World Nomads can either send you a check or they can make a direct deposit into your bank account.
You will then need to answer a few basic questions about what happened. For example, if I was hospitalized I would need to include basic information about the hospital (either the doctor seen, the name of the provider or the name of the hospital), the cost of care and the amount that was billed, and whether or not I already paid for the bill.
Submitting your Documentation
After filling out the online form and submitting your claim, you will receive a message with detailed instructions for sending in the appropriate documentation. The documentation you need to submit for a medical claim includes any doctor or hospital bills, receipts, statements and/or reports about diagnosis and treatment. Basically, the more thorough your documentation, the faster your claim will get resolved. The documents need to be in English or alternatively, they can be submitted with a translation. The translation does not need to be official and if you know what the document says, you can provide the translation yourself.
If you are missing documents that does not necessarily mean you will lose out on the claim. It does mean, however, that you will be spending more time communicating with an insurance representative to prove yourself and the overall process will take much longer. If your documentation is blatantly inadequate, though, you will probably not get any help from the insurance company and you will have to shoulder the bill yourself.
Finally, you can file a claim during your trip and wait until after you have returned home to submit your documentation if that is more convenient. You can also fax your documents to World Nomads as an alternative to sending them by mail.
Tracking the Progress of your Claim
One of the reasons we are big fans of World Nomads travel insurance is because of their easy to use online interface. After filing a claim and mailing in your documentation, you can track the progress of your claim from your account dashboard. If World Nomads has any questions about the claim, they will send you a message. By the same token, if you have any questions for them you can send them from within your account. I have been using World Nomads on trips for the past couple of years. I have never had to wait longer than 24 hours for a response from one of their customer service representatives.
As soon as your claim is approved you will receive an email notification and a message within your account. Your payment will then be sent via check or it will be directly deposited in your bank account, depending on what you selected when you started the claim. If your claim is denied, you will receive a message from a staff member detailing the reasons why. You can of course follow-up, make adjustments to the claim, file a new one, and/or submit further documentation for review.
Things to Keep in Mind
Read the fine print – Whichever travel insurance you decide to purchase, make sure you read the fine print. See what the deductible amount is and read what's covered and what's not. For World Nomads, the outpatient medical deductible is $100. This means that the insurance won't cover any medical expenses if, over the course of your whole trip, they are less than $100 total (this is a typical amount with travel insurance companies).
Also, remember that some things are not covered by travel insurance. For example, when it comes to travel health insurance, injuries sustained while intoxicated (doh!) are not covered, nor are medical expenses stemming from a pre-existing condition. Again, read the fine print.
Claims can take up to 1-2 months to be approved – Whether you choose World Nomads or a different travel insurance company, claims can take a while before they are approved. Provide thorough documentation and submit it as soon as you can for a faster resolution to your claim.
For our more detailed review of World Nomads, see this article.
Photo credit: flickr user codepo8