The following is our second post on skin infections (see the first one on cellulitis over here). This one comes from Alex at WanderlustandtheGirl.com. Enjoy her entertaining and somewhat intense tale of what it's like to get an infection in your armpit!
In 2010, I took my first official round-the-world trip. I went surfing down under in Australia, temple hopping in Cambodia, and animal watching on safari in Tanzania. I had the most fun gallivanting around South East Asia where I spent a leisurely five months.
During my time roaming the South East Asia circuit, I managed to escape the typical backpacker pitfalls – dengue fever, burns from motorbike exhausts, and broken bones from tubing. With only two months left in my adventure, it wasn't long before my health took a turn for the worse.
I started getting what I thought was a pimple underneath my arm. The pimple turned into a large bump and eventually into a giant puss filled cyst. Not only was my new underarm fixture embarrassing, it became increasingly painful with size. I didn't know what to do so I tried to self medicate by taking antibiotics from one of the many pharmacies found in Thailand. Throughout the next two weeks the cysts came and went increasing in size and discomfort each time they appeared.
My period in Asia was coming to an end and I didn't have time (or I foolishly didn't make the time) to go to the doctor. Before I knew it I was jumping on a plane and starting a 21 day overland tour in Africa. Throughout this time I didn't have access to a doctor and had to endure the ongoing cyst outbreaks.
I experienced horrendous pain as the cysts became more numerous and continued to develop. I could not fold my arm without flinching in agony and got to the point where I could no longer hold back my tears. Pain killers didn't even numb me anymore and only sleep could provide me some relief.
I had to wait until my overland tour was over and I got to South Africa to go to a proper hospital. This was over a month and a half after the growths began.
The doctor in Cape Town gave me a 9 day antibiotic treatment which finally helped calm the growths. Instead of doing as I was told by the doctor and laying off the booze while taking antibiotics, I happily celebrated my last week on the road.
Sure enough, two weeks after arriving home, the cysts returned and this time bigger and more excruciating than ever.
I was helpless without health insurance and could not afford to pay for a private doctor in Los Angeles. I had no choice but to spent 8 hours waiting in the emergency room at a "free" hospital with the empty hopes of being seen by a doctor.
As the sun started coming up in the horizon, a light bulb went off in my head. I remembered that my travel insurance covered me up to a year after initially getting an illness while traveling.
I called my travel insurance to confirm and they referred me to an urgent care facility.
After two weeks of daily treatment, antibiotics (minus the booze), Vicodin, and a painfully necessary surgical procedure, I was finally relieved of my suffering and the horrible underarm cysts.
I hope others learn to be more responsible than me when I was sick on the road. My advice: Listen to your doctor, don't drink while taking antibiotics, and go to the hospital as soon as you think something's wrong.
I want to thank the folks at Travel Guard for financing my hospital bills and helping me get better! You guys rock!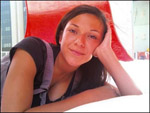 Originally intending to travel for three months "in between jobs", Los Angeles native, Alex, has now been traveling for almost four years. Trading in a career in fashion for full time travel, she's been to 34 countries on 6 continents and she's not done yet. You can read about her latest globe trotting adventures on her blog,
WanderlustandtheGirl.com
. Find her on facebook
here
and on twitter
@LAbackpackrChik
.