Japanese encephalitis is yet another mosquito borne illness. Confined to the limited geography of Southeast Asia and the Far East, Japanese encephalitis is rare in travelers, but it's certainly not an illness to take lightly.
Acute clinical cases (roughly 1% of cases) of Japanese encephalitis have a fatality rate of 20-30% and among survivors, 30-50% have some level of physical or mental disability from the illness.
This article will discuss prevention, where the disease is found, signs and symptoms, and treatment.
Distribution and Prevention
Japanese encephalitis is found in certain parts of Southeast Asia and the Far East. See the map below.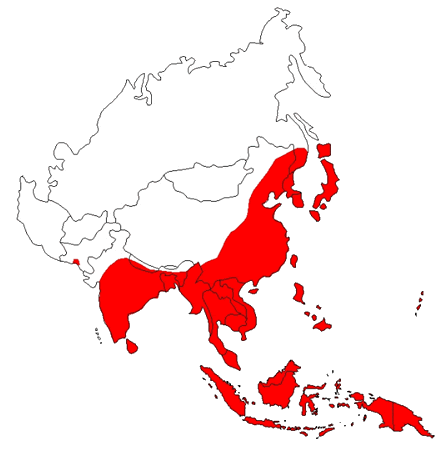 As we mentioned in our travel vaccinations article, JE is a particular problem between the months of May – October when the prevalence of mosquitos raises the prospect of contracting the disease.
That said, travelers should not be concerned about JE if they are traveling for a short period of time and spending most of their time in urban areas. For travelers who are traveling more extensively and spending a significant amount of time in rural areas, especially those who will be traveling in the above mentioned months, see the prevention tips below.
Finally, if you are traveling to a destination in Asia, do a quick google news search for "your destination name+Japanese encephalitis+outbreak." While rare, occasional epidemics can occur. If this the case for your particular destination, do not think twice about getting the vaccination.
Prevention
Japanese encephalitis is vaccine preventable. In the US, there is currently one licensed vaccine available: Ixiaro. It is currently approved for use in persons aged 17 and older, with studies underway seeking approval for those younger than 17. It has en efficacy of roughly 96%.
The vaccine is administered in two doses 28 days apart, so keep this in mind when planning for your trip. There are other JE vaccines available in Asia. They may be significantly cheaper, but make sure to consult with a doctor at a travel health clinic before getting one.
In addition to the vaccine, there are a number of measures you can take to minimize the risk of getting bit in the first place. In this article on whether or not you should take malaria prophylactics, we list a number of suggestions for preventing mosquito bites.
Signs and Symptoms
Most people who get the Japanese encephalitis virus will never know that they have it. Symptoms don't present themselves and the virus will pass without any physical manifestation.
In a small number of cases (roughly 1% or less), the virus evolves into acute encephalitis. In this case, there are symptoms and many of them are severe.
– Acute cases typically begin with a sudden onset of fever, nausea, vomiting and headache.
– Shortly after, weakness, fatigue, and problems with movement commonly occur
– As the disease evolves, symptoms become even more severe. Tremors and seizures are common. As stated above, roughly 20-30% of clinical cases are fatal and of those that survive, 30-50% experience some level of physical and mental disability.
Treatment
Currently, there is no course of treatment available for Japanese encephalitis. Symptoms can be managed but there is nothing to address the cause of the illness itself.
All of this may be difficult to read, but keep in mind that 1. Japanese encephalitis is rare to begin with and 2. Roughly 1% or less of cases become acute clinical cases.
That said, if you are traveling to any of the areas on the map above, be sure to visit a travel health clinic at least one month before your trip. You will be able to talk to a doctor about your specific itinerary and you will receive more specific information on the JE and the locale you will be visiting.
If you have any experience with this disease or the vaccine, please share your story in the comments below.
Photo credit: http://www.flickr.com/photos/gravitywave/478019200/